AM Cosmetics
A glance behind the scenes
Client
AM Cosmetics
Services
Campaign & Production
Graphic & Interior Design
PR & Influencer relations
Branding Activation
Digital & Social Media
BENELUX
International EDM phenomenon Anouk Matton had a crystal clear idea about combining two of her biggest passions in her new brand AM cosmetics: crystals and cosmetics. Nightingale delivered the branding, logo, look & feel, packaging and all other deliverables, to make AM Cosmetics the sparkling success it is becoming.
<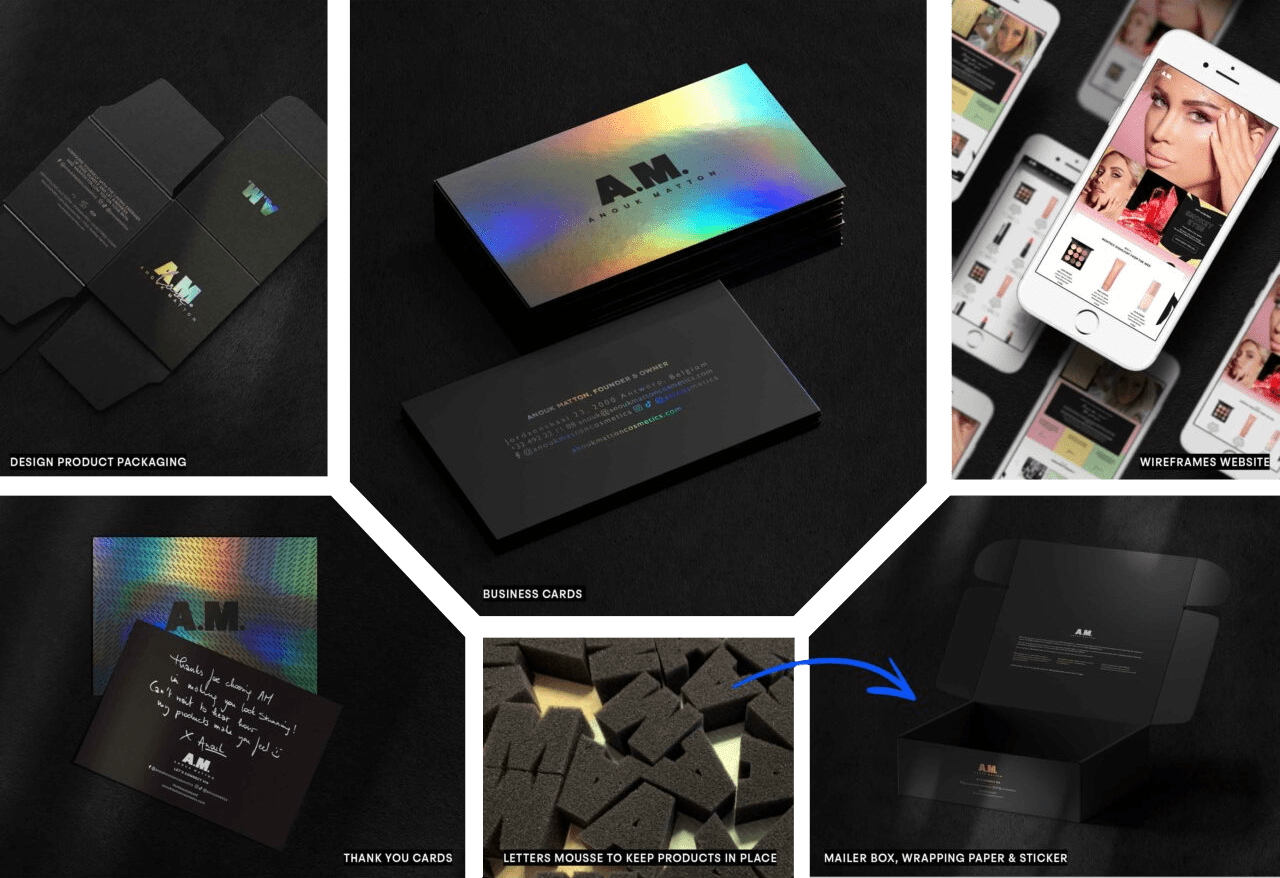 Sources of energy
What do Rihanna, Kylie Jenner, Kim Kardashian and Gwyneth Paltrow have in common? Having been surrounded with make-up during all of their careers, these ladies decided to take up their experience and create a personal beauty brand. Closer to home, EDM deejay Anouk Matton follows in their footsteps. Only Anouk adds a very special layer to her brand: introducing the crystals which have given her strength in her personal life.
Years ago, a friend advised Anouk Matton to carry an amethyst with her to keep her anxiety attacks under control. Ever since, Anouk has been fascinated by the healing power of crystals, a philosophy with roots in centuries-old Asian traditions that has been experiencing a major revival in Hollywood in recent years. "Crystals are tiny sources of energy. People incorporate them into jewellery to be able to carry them on their body. They inspired me to add crystals to make-up", Matton explains.
Beautiful brand, mighty team
AM Cosmetics' branding revolves around strong messages and powerful images. For the latter, Nightingale asked acclaimed Belgian fashion photographer Zeb Daemen to do the shooting. "We wanted to show the woman behind the brand in the pictures", Chief Visionary, and art director at the shoot, Stijn Nachtergaele explains. "And we loved the strong black & white pictures of Zeb. His style fitted perfectly with how we wanted to portray Anouk in the pictures." 
Make-up artist Sharon De Winter and stylist Ilja de Weerdt created a romantic, glamorous and fierce look to emphasize the Love, Glam and Fierce mood in Anouk's make-up line. After, these moods were used to shoot the product shots of all different products.
Self-love & acceptance
Together, Anouk and Nightingale have built a brand that stays close to Anouk's values of self-love and acceptance. With her own personal beauty routine as a starting point, and with today's worldly women in mind, Anouk launched AM with 3 essential products: mascara, eyeshadow and lipstick, in three different moods: Love, Glam and Fierce. All of Anouk's products are paraben-free, cruelty-free and vegan.
Crystals & colours
For the three different lines, Anouk selected three different crystals with which she wanted to work, based on their energetic features. Rose quartz, bringing harmony and balance, resulted in the Love mood, with romantic make-up colours. Nightingale selected a blushy pink colour from the Pantone palette to represent this mood. 
Amber is known to attract prosperity and foster self-expression and confidence and resulted in the Glam line, for which Nightingale selected a pastel yellow.
Jade was incorporated in Fierce, a crystal that attracts success and wealth and for which Nightingale selected a light green brand colour.
Touchpoints on point
Nightingale's senior graphic design officer Joëlle Batens defined all of AM cosmetics touchpoints; the logo, packaging, cards, wrapping paper and displays – all with a hologram coating or twist: "In the hologram, all the predefined colours come together, but it also refers to the crystals that set AM Cosmetics apart from other make-up brands."
"We designed two booths for all of the ICI Paris shops", Joëlle continues. "It was really exciting, because all of the make-up packages had to fit perfectly into it. We also integrated the look and feel of the crystals in the booths, with a big display, geometrical sides and a hologram coating."
"Personally, I really loved working on this case", Joëlle concludes. "We were really able to define the whole look & feel of AM Cosmetics and I really enjoyed putting quirky little details in the branding. The protection in the boxes for instance, are little mouches in the shape of an A and an M. These quirky little details really make AM Cosmetics a striking brand.
Next project
NG Drive Thru