Awake Days
The 4PM to Midnight Mentality
Client
Nightingale
Services
Graphic & interior design
Campaigns and productions
PR and influencer relations
Brand activations & events
Digital & social media
ANTWERP & AMSTERDAM | For every season of our Open Days, Nightingale aims to communicate a message that makes people think. The FW18 season is no different. After an accumulation of information gathered from trend lectures, case studies and our personal experience in retail, we came to the realization that brick-and-mortar retail hasn't adapted to the daily life of the average person.
24/7 CONVENIENCE STORE
"Stores are open when people are at work, and close before most of us leave the office," explains Stijn, founder of Nightingale. "This creates a lot of missed opportunities, and powers the argument for online shopping."
With the idea that physical stores will have to adapt to compete with online retailers, Nightingale looked at these 24/7 convenience stores for inspiration. Nightingale collaborated with Studio Biesmans to create a temporary nightshop inside their creative space, surrounded by an emulated outside area with a parking lot and gym area. All housed within the 650m2 workspace, every portfolio brand was visually merchandised in a concept fitting way.
AWAKE
To challenge the status quo, we shifted the opening hours of the FW18 Open Days and opened our doors at 4PM, only to close them at midnight. This made it possible for everyone to visit the AWAKE Days, and put us outside of the opening hours of competing agencies. At the end of the two day run, Nightingale celebrated the closure of the Nightshop with the AWAKE at Night afterparty.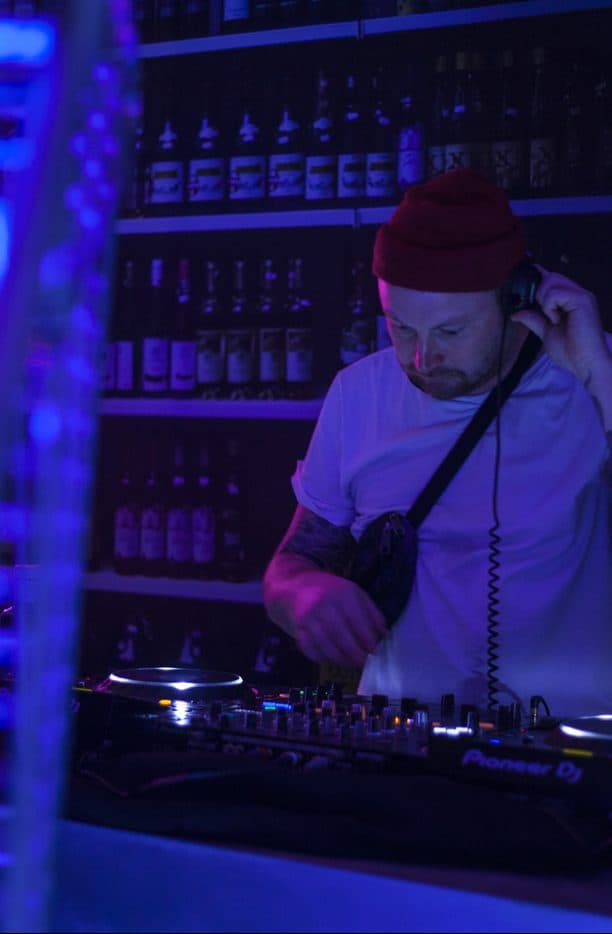 EXHIBITION ROAD
When guests entered the creative workspace in Antwerp, they would immediately arrive at 'Exhibition Road', where they were introduced to the concept with the collaborative exhibit between Canon and Maxime Fauconnier. This expo was heavily inspired by the nightshop culture in Antwerp and Brussels, and shows various conceptual cityscape scenes.
OUTDOOR URBAN AREA
Graphic elements like street signs, flyposting and road surface markings, as well as two parked MINI cars and the Nightshop-inspired installation created the illusion of entering an outdoor urban area. Street signs like 'Cellular Lane' and 'East Fallwinter Street' make references to a branded future, but still create a certain partiality.
INSIDE THE NIGHTSHOP
Once inside the AWAKE installation, a combination of food, design and fashion portfolio brands like Size?, IZIPIZI, Samsøe & Samsøe and Rains were displayed on aluminum clothing racks and shelve displays. Guests were able to try certain products, such as Vitamin Well AWAKE drinks, Fulfil protein bars and ProperCorn popcorn.
WEST PARKING STREET & POINT BREAK AVENUE
Part of the urban outdoor area included a gym area, teasing client Sportclub het Eiland's first outdoor gym in Belgium called Point Break, as well as a parking lot with two MINI's parked inside the showroom.
CELLULAR LANE
As part of the Press Tour section of the program, Nightingale presented five new Nokia smartphones. This was the first time all new models were presented together after the premiere in Barcelona.
CREATORS BOULEVARD
In collaboration with Canon, Nightingale created a special corner where guests were introduced to two new Canon mirrorless camera's. Part of the demonstration was to show how people could take photos at the exhibition and seamlessly connect with the Canon printers to immediately print their creation as a memorabilia.
AWAKE AT NIGHT AFTERPARTY
To celebrate the conclusion of the Open Days, Nightingale shut down the temporary pop-up store installation with the "AWAKE AT NIGHT" after party. Besides a curated playlist by Charlotte Adigéry of WWWaters and DJ sets by KEVIN KOFII, Sam Ostyn and Sven Mes, Nightingale also collaborated with other brands to keep the party alive and awake.
NIGHTINGALE X VITAMIN WELL
A special collaboration between Nightingale and Vitamin Well was released during the AWAKE party. The rhubarb and raspberry drink was named after the event, and later released in the AWAKE store.
GUERILLA TAKEOVER EVENT IN AMSTERDAM
After the FW18 AWAKE Days in Antwerp, Nightingale translated the nightshop inspired concept into a one-day guerilla takeover event in Amsterdam. Taking over a pop-up location in the Jordaan, the event surprised guests and bypassers alike.
INTRODUCING: EXPERIMENTAL CONCEPT AGENCY
Opening new offices in Amsterdam, the guerilla event acted as an introduction to the experimental concept agency. Nightingale presented their Benelux portfolio brands like Nokia, Parkland, C.P. Company, Vitamin Well, Freixenet and Earth Wate through three experiential installations.
"The idea of the AWAKE Nighttime Open Days actually came from our ambitions to open our own Nightingale concept store in Belgium. This concept is a prelude to a full-fledged retail concept that Nightingale has in store for the first half of 2019, which will also be called AWAKE. We plan to open this contemporary lifestyle nightshop in Antwerp with corresponding opening hours."
C.P. COMPANY INSTALLATION
Looking at both the past and future, the FW18 collection by C.P. Company sees a further exploration of tones that allude to sequential coatings of dust, mud, rain and sun – all elements of corrosion a Mille Miglia driver might experience. On the other hand, rich tones of burnt tangerine, saturated yellows and aubergine-ish burgundies refer to a dystopian future reminiscent of Blade Runner or Mad Max. Nightingale & THIRTEEN visual stories created a dedicated installation based on the original art piece by Aitor Throup.
PARKLAND INSTALLATION
The mantra "a better future starts with yourself" is something often shouted, but not adhered by many brands. In comes Parkland with a new range of colorfully designed bags and small accessories, all designed with fabrics recycled from plastic waste. The installation presented during the AWAKE Days demonstrates the process through a simple yet effective manner.
NOKIA PRESENTATION
Present at the AWAKE Days in Amsterdam were the newest models by HMD Global, home of Nokia phones. The installation included the Nokia 1, Nokia 6, Nokia 7 plus, the Nokia 8 Sirocco and the nostalgic remake of the 8110.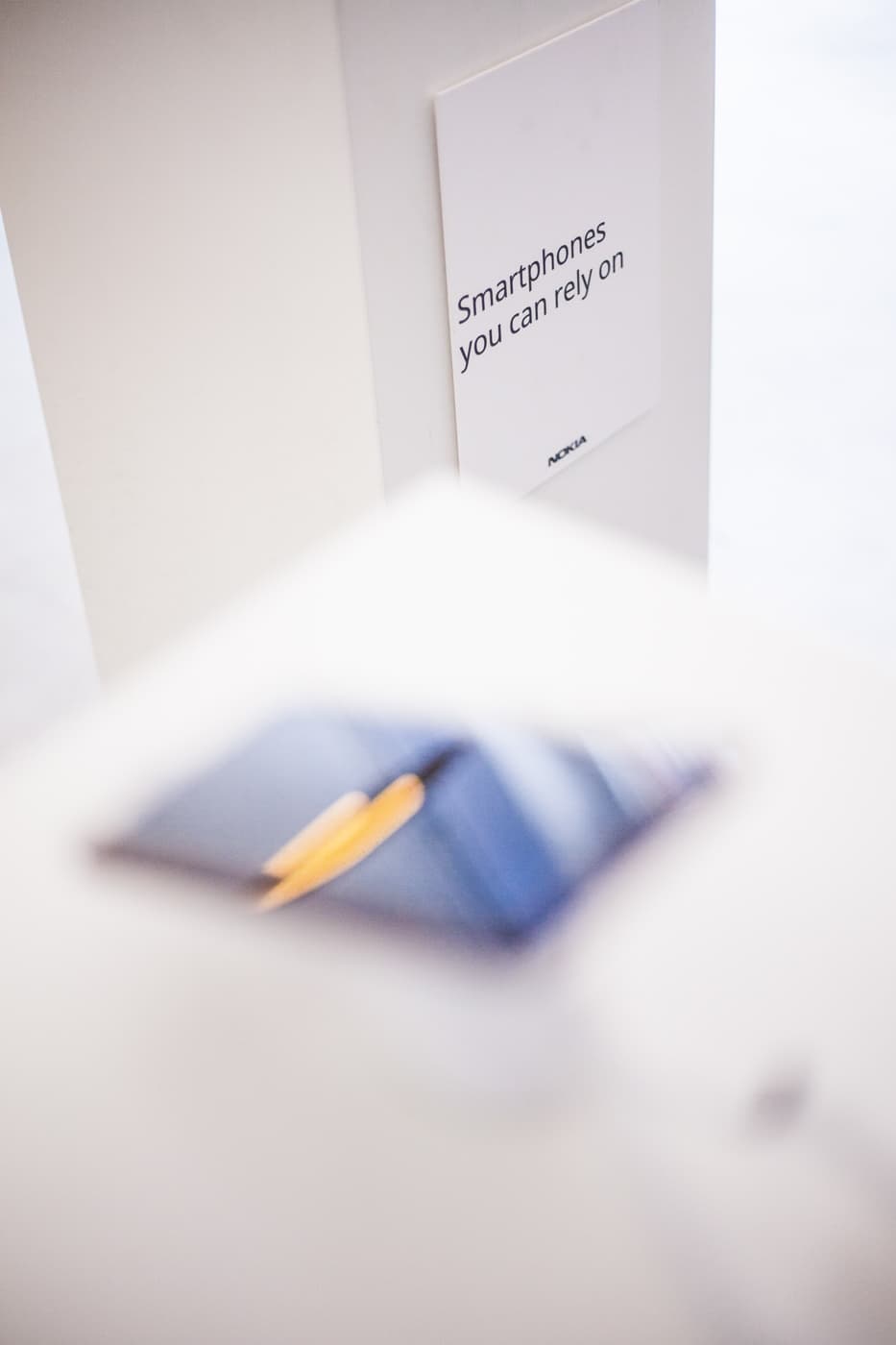 EXPERIMENTAL BEVERAGES
Before guests were introduced to Nightingale and the three experiential installations, they were treated to a drink and snack. A special thanks goes out to sponsors Freixenet, D-Drinks, Earth Water and Alken-Maes.
EMOTIONAL ARCHITECTURE & SCENOGRAPHY
As part of the scenography, projections were mapped on the walls and ceiling, screening new material by brands like C.P. Company, Nokia and Parkland, as well as custom material created for the guerilla event.