Veet
BENELUX LAUNCH CAMPAIGN
Client
RECKITT BENCKISER
Services
PR & MEDIA RELATIONS
INFLUENCER MARKETING
PAID MEDIA COLLABORATIONS
CREATIVE STRATEGY
Veet, widely known for its hair removal solutions, came to the market in 2020 with a new concept: Veet Miraculous Oil, ensuring its consumers the best skincare possible, before and after hair removal. Nightingale offered mother brand RECKITT BENCKISER a launch approach for Benelux, gained its trust and rolled out a whole campaign, gaining lots of new beauty clients for Veet.
What if you could offer Veet products to your clients from within a pop-up Beauty Bar in which they feel totally welcomed? With this approach Nightingale persuaded RECKITT BENCKISER to choose us as their partner in crime. Unfortunately, Covid made it impossible to go through with the Beauty Bar idea, but Nightingale wouldn't be itself if it didn't come up with a great solution. The initial brainwave was shifted into another one: seeding campaigns with beauty influencers which turned out to be very successful. However, the Beauty Bar idea did spark Nightingale's inhouse Vanity Space, though – it's the corner where we introduce all of our beauty clients to the audience – and in which Veet has a premium spot, of course.
CREATIVE CAMPAIGN PHOTOSHOOT
What would a great campaign be without great images? To shoot Veet Miraculous Oil, Nightingale approached We Are Oskar. While we were responsible for the creative ideas and art direction, We Are Oskar produced the campaign's photoshoot. Together, we beautifully captured the essence of the oil in a sunny soaked setting.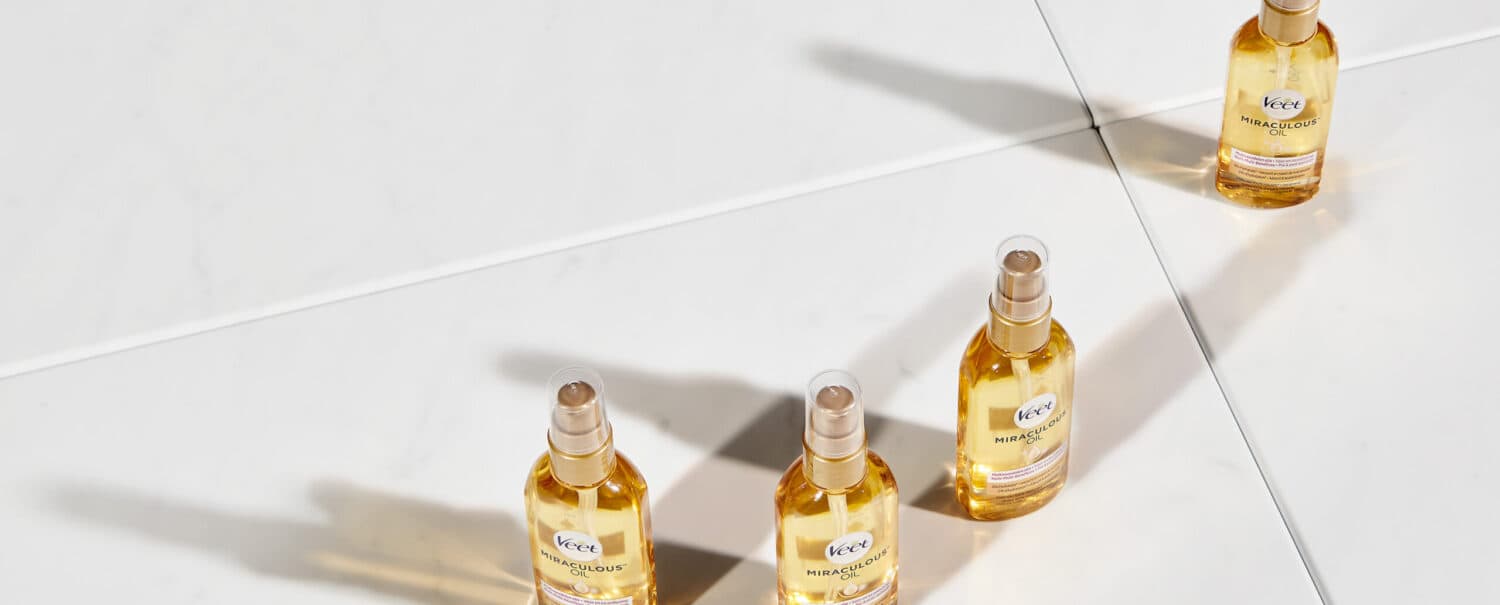 PR, MEDIA & INFLUENCERS
Nightingale approached traditional media and influencers alike. Because of our seeding campaign – sending packages to the main editors of many women's magazines – Veet Miraculous Oil was covered in important magazines such as Flair and Libelle. The campaign could also count on plenty of online coverage on popular platforms in the Benelux, such as hln.be, hbvl.be, nieuwsblad.be, viva.nl and gva.be. Fashion magazine Elle was also a fan of the campaign and broadcasted it on its social media channels. 
Influencers such as Paulien Riemis and Justine De Jonckheere were asked to make original content with the oil. They, and some of her colleagues, made beautiful photos of themselves using Veet Miraculous Oil, adding a story to why the Miraculous Oil made them feel beautiful before and after hair removal.
NIGHTINGALE TV
Twice a year, Nightingale surprises the public with a whole different approach to shed light on its clients. Because of Covid, we decided to create our very own live broadcast, which you could follow through different channels. Presenters Lieven Trio and Britt Valkenborghs showcased lots of Nightingale's brands in which the Veet Miraculous Oil was introduced to the public by radio and tv host Heidi Van Thielen.
OUTCOME
Veet Miraculous Oil was published and seen in many influential media titles in the Benelux, both online and offline, resulting in a reach of over 3 million. The campaign also appeared in various feeds of Flemish and Walloon influencers such as Heidi Van Thielen and Sandrine Corman and was broadcast on Nightingale TV, which, altogether, reached over 4 million consumers.