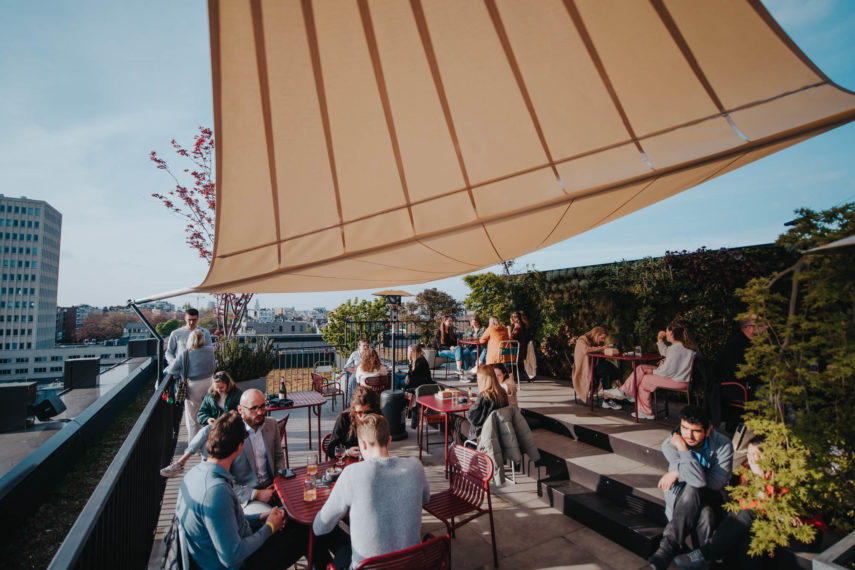 YUST ANTWERP
TALK TO STRANGERS
Client
YUST ANTWERP
Services
PR & MEDIA RELATIONS
INFLUENCER MARKETING
SEEDING CAMPAIGN
Starting your summer on a spicy note with cocktails and bites? Or just chilling out with an exciting book? YUST Antwerp's rooftop is your place to be for the most relaxed summer vibes. Make the most of your summer at this unique spot overlooking the Antwerp skyline.
TAKING SUMMER TO THE NEXT LEVEL
A key asset of YUST Antwerp is its beautiful rooftop, one of the last rooftops in the city that is still standing. Top that off with some edgy YUST vibes and you have all the ingredients for a successful summer.
During the summer months, you can enjoy the rooftop of this hospitality concept for perfect sunsets, aperitif moments with friends, rooftop cinemas, outdoor yoga sessions and delicious bites. For the occasion, YUST's restaurant moved to the rooftop as a full-fledged pop-up concept.
MOUTH-WATERING PR
During the Antwerp press days in April, a selection of A-list lifestyle and culinary journalists already got a taste of the summer menu for the YUST Summer pop-up. That evening the tone was set and the taste continued to resonate.
Shortly after, Nightingale launched a press release to make the concept known to a broad group of lifestyle, travel and culinary journalists. For those lucky enough to have an earlier seat at the table, a second encounter with the summer-rooftop and the chance to take in all the concrete details.
Nightingale's relationships were personally addressed and followed up on. Building on Nightingale's knowledge of the journalists and their preferred topics, the story of the YUST summer pop-up was featured in several Dutch- and French-language magazines, newspapers and online.
#YUSTSUMMERONTHEROOF
The buzz in the press was reinforced with an influencer campaign. Nightingale went looking for brand-aligned influencers who were a great match with YUST: lifestyle, food, travel and local influencers were approached to come and test YUST's summer menu.
To warm them up for their evening of #summerontheroof, the influencers were sent a seeding box with YUST summer merchandising, tickets to the rooftop cinema and sun protection skincare products from a local natural skincare shop close to YUST Antwerp. Because YUST's strength, like Nightingale's, lies in good local anchoring and knowledge of the local lifestyle landscape.
An initiative that was given extra echo thanks to a carefully curated giveaway with Hungry Antwerp, a social media food guide for Antwerp, that shares the best of the city's culinary scene.
<