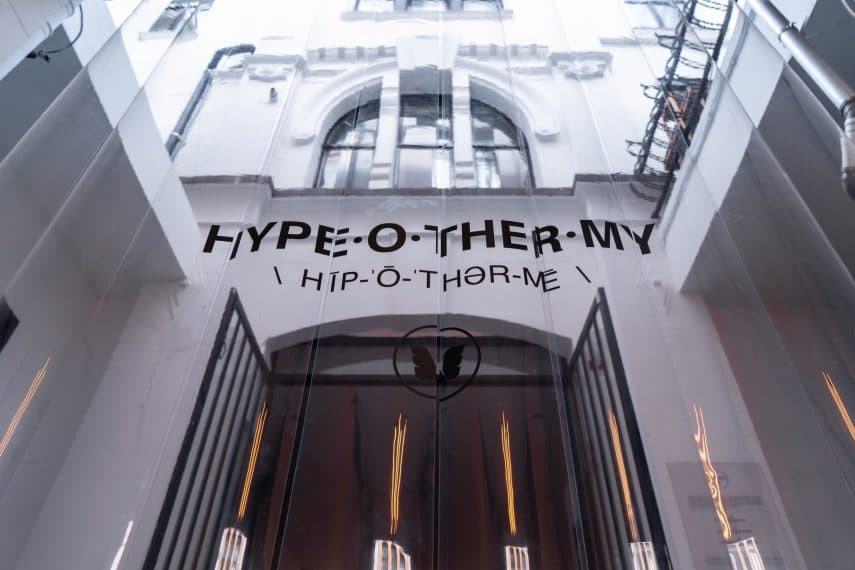 HYPE•O•THERMY
Refreshing Levels of Cool: Nightingale Open Days
Client
Nightingale
Services
Graphic & interior design
Campaigns and productions
Marketing strategy
PR and influencer relations
Brand activations & events
Digital & social media
ANTWERP | Every season, there's a bit of irony within the fashion world. From a B2B perspective, presenting FW19 collections in late spring makes sense due to the sales calendar. But from an experience perspective, presenting puffy, warm winter jackets and NYE party dresses at 24 Cº might at times feel odd. To address this phenomenon, Nightingale's latest open days hyperbolized this friction and transformed their showroom into a winterscape.
EXTREME LEVELS OF COOL
Nightingale transformed the HYPE•O•THERMY idea into a concept that explored the otherworldly hallucinations caused by extreme levels of coldness – but as it's fashion-focused – extreme levels of cool.
At the center of it all was the startling snow mountain, with on the background a looped projection of a blizzard. Snowwhite cubes with iridescent foil displayed frozen accessories, and three trend looks accompanied the rest of the collections. In sound, the experimental workspace was engulfed in blizzard sound effects and a custom playlist by Cheap Charly Men.
EXPERIMENTAL HEATPACK INVITE
Instead of sending regular invites, Nightingale took the conceptual route and printed hand warmers or heat packs to accompany the winterscape experience. A digital version was also sent out through private Instagram Story messages.
SEGMENTED BUT TAILORED PROGRAM
During these three days, Nightingale segmented the days to give journalists, stylists and influencers their own moment to experience the collections and HYPE•O•THERMY experience. The kick-off party on the first day gave influencers an Instagram-worthy aesthetic and music by DJ Warre Geens and DJ Bearsøme. The second day was created for journalists and stylists to make their selections and focus on the stories behind the aesthetics, ending the day with a press dinner at Fiskeskur. That night, Nightingale simultaneously organized their Archilecture event, where architects had the opportunity to explore the design collections.
OPEN DAYS THE NIGHTINGALE WAY
Nightingale has always taken the conceptual road with their open days, and FW19 is no different. Through storytelling and concept building, the agency develops and builds a scenographic setting that adds an extra context to more than 25 fashion, food and design collections – either synced or disconnected from the seasonal calendar. The result is an immersive, trend-conscious experience starring collections by international brands like Samsøe & Samsøe, C.P. Company and Drykorn to Belgian start-ups like KAAI and RectoVerso.
SCENOGRAPHIC WINTERSCAPE
A monumental snow mountain, immersive blizzard projections, snow-white cubes with iridescent foil and frozen accessories: signature to Nightingale, the open days elevated the scenographic expectations of an open days presentation.
KOMONO SKI CABIN
In collaboration with Belgian eyewear brand KOMONO, the agency presented the newest offerings of sun- and reading glasses for FW19 inside a mirrored ski cabin.
TREND PODCASTS
Accompanying the looks for the season, Nightingale studied the collections and trends within the industry and developed four different soundscapes that brought these trends to life. Discover the 'Green New Deal', 'The Wild Outdoors', 'Retro Bourgeous' and 'All Work/No Play' trends in immersive HiFi quality on Soundcloud.
NON-ALCOHOLIC REFRESHMENTS
During the HYPE-O-THERMY Days, Nightingale focused on offering journalists and influencers non-alcoholic alternatives that wouldn't get in the way of their productivity. Thanks to drinks like our Carlsberg 0% beer, Tao ice tea, Dutch premium tonics by Essence London Company and flavored Dash water, visitors were able to keep their heads cool.
PRESS DINNER AT FISKESKUR
After presenting the collections for FW19, Nightingale brought a key selection of editors and journalists to a press dinner to further elaborate the collections, concepts and trends for the upcoming season.
Next project
Antidote 2x19